Sopranos Sports Bar & Pizzeria
Restaurant
,
Bar
,
Café, bar, nachtclub, bar-dancing e.d.
,
Horeca
,
Cruise tourisme
,
Sportaccomodatie
,
Italiaans Restaurant
,
Mangasina-selectie
,
Discotheken
,
Toerisme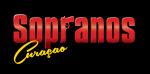 Adresgegevens:
Renaissance Riffort
Curaçao


Contactgegevens:
Telefoon: +5999 4654007

Website:
www.sopranossportsbar.com
Sopranos sports bar and pizzeria situated at Riffort village Otrabanda, now fully redesigned with a much larger bar and a more spacious environment to comfort your game experience, is the perfect place to be at on any day of the week. Equipped with five big screens in our air conditioned area and additional screens outside on our terrace, enjoying a Cuban cigar or our home made pizza, there is no way you can miss a game. Any game! And mark our Monday Late night Happy hour from 23.00-24.00h on your calendar, with a live DJ and 2 for 1 drinks, dance till the early morning hours or our Thursday night Sing-A-Long Karaoke. A definite To-Do on your visit to Curacao.
Openingstijden

Maandag: 10:00 - 23:59
Dinsdag: 10:00 - 23:59
Woensdag: 10:00 - 23:59
Donderdag: 10:00 - 23:59
Vrijdag: 10:00 - 23:59
Zaterdag: 10:00 - 23:59
Zondag: 10:00 - 23:59


Betaalwijze

Cash, Creditcards & ATM-pas
Rating & review