Wijzig Record
Pelican Boat Trips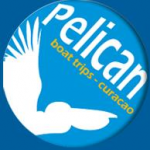 Adresgegevens:
Bapor Kibra
Curaçao


Contactgegevens:
Telefoon: 465 8388
Fax: 461 3278

Website:
www.pelicanboattrips.com
Watch and discover Curacao with the Pelican Boat trips. We offer an unique boat trip to het Westpunt of Curcao. Discover together with the Pelican Boat trip the Vaersenbaai and the Blue room, the 2 most beautiful snorkelling spots of the island! The Blue room is an experience which you will not forget soon and is definitely worth it. The Blue room can only be reached swimming. The walls of this magnificent and impressive cave get a beautiful blue glow because of the reflection of the water. The Vaersenbaai is situated in a quiet environment. With the many rocks and the colorful sea life in the bay, it is a wonderful location to dive for tourists. You see the beautiful coral reef with a lot different kinds of fish. A fantastic and amazing trip on the waters of Curacao
The boat leaves at "time" from the Sea Aquarium. You get enough time to snorkel at both spots. Enjoy the beautiful nature under water. At "time" you will arrive at the beach Playa Kalki. Here, a bus will bring you back to the Sea Aquarium.
We promise you a relaxing day. We provide you a wonderful day with a amazing snorkeling combined with a barbecue and drinks. The snorkelling equipment will be available at the boat.
| | |
| --- | --- |
| Openingstijden | |
| Betaalwijze | |
Rating & review