Wijzig Record
Delifrance Bloempot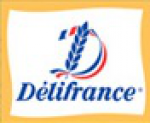 Adresgegevens:
Bloempot Shopping Center 14
Curaçao


Contactgegevens:
Telefoon: 737-1688
Fax: 737-1678

Website:
https://www.facebook.com/pages/Delifrance-Bloempot-Curacao/178799985497069
Curaçao's favorite luxury breakfast and lunchroom since 1995 Shoppers, business people, families and tourists enjoy Délifrance's
generously filled sandwiches, healthy salads and surprising specialties everyday. Our three locations are popular meeting points
with a relaxed atmosphere
| | |
| --- | --- |
| Openingstijden | |
| Betaalwijze | |
Rating & review
Josje Klaverbeek waardeert dit met 1 ster en zei op 18 september 2011:
Vanmorgen gaan met een groep vrienden gaan ontbijten bij Delifrance. Wat een afknapper. Erg lang wachten, zeer onbeschoft personeel, klef brood en filet american zonder smaak. En dit alles voor veel te veel geld. Ons gaan ze nooit meer terug zien!