Wijzig Record
Bed and Breakfast Blenchi Curacao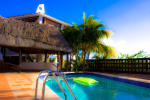 Adresgegevens:
Coral Cliff 8A
Curaçao


Contactgegevens:
Telefoon: 662 9904

Website:
www.blenchicuracao.com/
Divers paradise on Curacao, our B&B provides an affordable yet luxurious stay in the middle of the best diving spots, beaches and nature.
Blue room Curacao
Diving the Blue room at Mushroom forest
Whether you are looking for a hassle-free dive holiday with access to weight, air and equipment or rather grab some goggles and start snorkeling at the most secluded and hidden beaches, Blenchi is the place for you.
We offer guided dives to the best dive locations on the island, like the Mushroom forrest and the Blue room (underwater cave). Our experienced crew is trained to offer you all possible Padi and Naui dive courses.
An optional buffet breakfast is served from 8 until 10pm every morning. Enjoy freshly baked breads, fresh fruit, pancakes, coffee, an assortment of tea, eggs and more. Our breakfast area is located under a cosy Caribbean 'palapa' parasol next to the pool area.
Breakfast with a view
Rather prepare your own breakfast? No worries, you can use the shared (fully equipped) kitchen to prepare your own meals. There's a common fridge in the kitchen where you can keep some groceries.
We work with a so called 'trust system' for drinks when there's no staff on-site. This means we have softdrinks, beers and wines available to take at all hours, you just write down whatever you had and it's added to your end-bill, it really is that simple
As Blenchi staff we all have one major thing in common, we love our island and are passionate about sharing the <3. We offer tours to some 'off the beaten path' places that can't be reached with a regular car. Find out about Curacao's hidden gems on our North coast and Blue cave jeep tour.
North coast tour
Discover the rugged north coast of Curacao on our half-day tour. We'll take you to Turtle bay 'Ascension', 'plastic bay' and Suplado (better known as the natural jacuzzi).
Rugged Curacao North coast
Rugged Curacao North coast
For those interested the tour includes an hour hike to the top of the Ascension area for some of the best panoramic views over the island. Alternative for the hike is a visit to the Shete Boka park.
To protect this unique part of Curacao San Nicolas can only be reached by boat or organised tour, keeping the coral and nature intact.
During this tour we will take you to Pos Spaño; a long stretched coral beach where you will have time for snorkeling and/or diving.
The dive sight is very good due to a neat mix of coral and sponges.
Boka Santa Pretu; also known as black sand beach, is a one of a kind volcanic (!) beach with – what's in a name- black sand and great rock formations making it a great snorkeling spot.
Boka Fluit ; also known as the blue room is an underwater cave that will light up and turn blue from the sun that comes in.
Playa Hulu ; this small but beautiful sand beach is amongst one of the few untouched beaches left; providing privacy at it's best.
| | |
| --- | --- |
| Openingstijden | |
| Betaalwijze | |
Rating & review