Wijzig Record
Aquila Apartments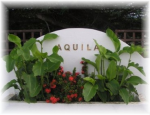 Adresgegevens:
Libier 77
Curaçao


Contactgegevens:
Telefoon: 767-8539

Website:
www.aquila-apartments.com/
Aquila Apartments is the best place for affordable holiday bungalows and apartments on Curacao, part of the Netherlands Antilles in the Caribbean. Aquila is situated on the former agricultural estate of Schooneboom. The complex consists of 2 bungalows, 4 apartments and a studio, located around the house of the Dutch owner/proprietor. The large domain is available for all our guests.
The bungalows at Aquila have a minimum of 70 square meters of living area, their own entrance and a large garden. The bungalows consist of a large living room annex kitchen, two bedrooms and a large partially covered veranda.The apartments have a living area of 40 square meters. The apartments have a living room annex kitchen, one bedroom and large covered veranda.
The studio is approximately 25 square meters. The studio also has a separate bedroom, but the living room annex kitchen is somewhat smaller than in the apartments. The studio also has a covered veranda.
All of our accommodation is equipped with comfortable furniture, tv, modern bathrooms and fully equipped kitchens including refrigerator with freezer compartment and coffee making machines. In all the bedrooms modern air-conditioning is installed. The atmosphere will enable a relaxed and enjoyable stay at our complex.
The spacious covered verandas are ideal for day and evenings, as the combination of the ever present breeze and comfortable shade will sufficiently cool down the outside living area. All the verandas are equipped with garden furniture.
The large grounds are open to all our guests. You can relax under our Schooneboom, the centrally located old tree width large shaded area. A small childrens playground is also available under the tree.
Besides space, nice views, sufficient parking space and some playing equipment for the younger ones, we offer comfortable accommodation. Please don´t expect the luxury and facilities of a five star resort with swimming pool! We do our best to offer an affordable and comfortable stay, within a relaxed atmosphere, at a relatively small complex, with equivalent facilities. Our size however, enables us to offer everyone our best, personalized service. All accommodations have a private hammock (use at your own risk, be careful!).
| | |
| --- | --- |
| Openingstijden | |
| Betaalwijze | |
Rating & review